How to Install Lookout on Outlook 2007
I got another request today from an old friend for how to make Lookout run inside Outlook 2007. I've probably received a thousand such requests over the last few years… Since I recently installed Outlook 2007, I finally was able to test it out.
This fix should make Lookout work. However, if you have other .NET addins running in Outlook, there is a chance they will no longer work. The fix is reversible though, so don't be too scared. But this fix is definitely for the tech savvy. Gory details:
Installing Lookout on Outlook 2007
1) First, you'll have to find a copy of Lookout. Microsoft doesn't distribute it anymore, but issuing this search on Google seems to find it pretty handily.
2) Next, install Lookout. You'll need admin privileges (no difference from XP), and the install will go without a hitch.
3) When you next restart Outlook, you'll probably get this very apologetic-yet-unhelpful error dialog: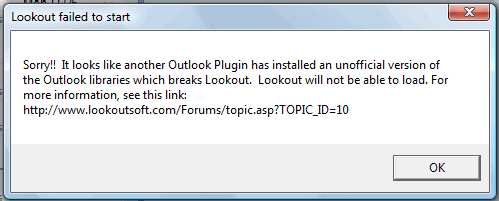 4) The problem is that Outlook 2007 ships the Outlook 2007 Office PIAs by default. Open a command shell (as administrator), and issue the following commands:
cd %SYSTEMROOT%\assembly\GAC
rename Microsoft.Office.Interop.Outlook Microsoft.Office.Interop.Outlook.OLD
5) Restart Outlook and you are good to go.
更多信息可以参考:
http://www.cnblogs.com/zhangronghua/archive/2010/05/04/lookout_introduce.html